Eyecare in Orlando
Regularly scheduled eyecare visits are essential to maintaining eye health and preventing potential eye diseases. As with any medical issue, catching a problem early before it has time to develop into something worse is always the preferred method of treating an eye condition. If you live in or around Orlando, FL, contact our optometrists at Uptown Eyecare today to schedule an appointment.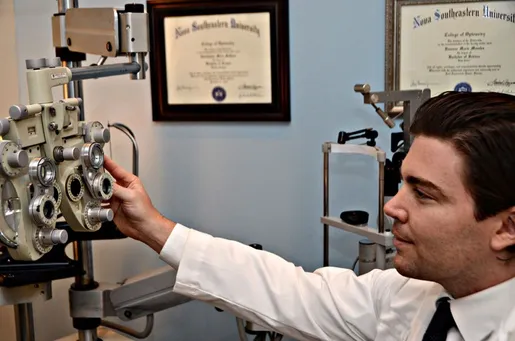 The Importance of Visiting an Optometrist
The human eye is an incredibly complex and amazing organ. As humans age and grow, our eyes also change over time. Perhaps your vision isn't as good as it once was or you already have a prescription for eyewear but you've noticed the clarity just isn't there anymore. We will provide the proper testing needed to determine what prescription will provide the clarity that you deserve.
Our eye exams will also include testing for various eye diseases such as glaucoma, cataracts, and macular degeneration. Some eye conditions can be cured while others cannot. Early treatment can prevent further damage from occurring and may save your vision. If you are experiencing vision difficulties, contact us today.
Eye health emergencies may arise as well. By having an established relationship with an optometrist, it's easier to address such things such as a cornea burn, pink eye, a scratch on the cornea, and other problems you may encounter.
Improve Your Vision
When you begin to experience problems with your vision, it can lead to issues in every aspect of your life. It can affect your ability to drive, read, and work on your computer. Often, people notice vision changes as they get older. Even those who have always worn glasses may find that they need a stronger prescription or possibly bifocals. During your visit we will discuss some ways to improve your vision which may include the following:
Eyeglasses
Contact lenses
Lasik eye surgery
Eye strengthening exercises
We can discuss the pros and cons of each corrective solution. Your vision should never be compromised, and at Uptown Eyecare, we have optometrists who will work to find a solution that fits your needs and lifestyle.
Schedule an Appointment for Eyecare in Orlando Today!
If you live in or around Orlando, FL, call Uptown Eyecare today at (407) 855-6132 to schedule an appointment with one of our optometrists. We offer a wide range of eye care services along with vision correction options to ensure you see the world more clearly. We can also address any eye emergencies that require immediate medical attention. To find out more, call us today or browse our website.